Turbo Productions
a division of Turbo Productions, Inc.
206-420-6646
<![if !vml]>

<![endif]>
To book Latin Expression for a live engagement, call us or simply fill out an Entertainment Request Form and a Turbo Productions
agent will contact you within 24 hours.
This quick questionnaire will ask you the right questions so we can better serve your specific needs as quickly as possible.

Absolutely No Obligations!!!!
____________________________________
<![if !vml]>

<![endif]>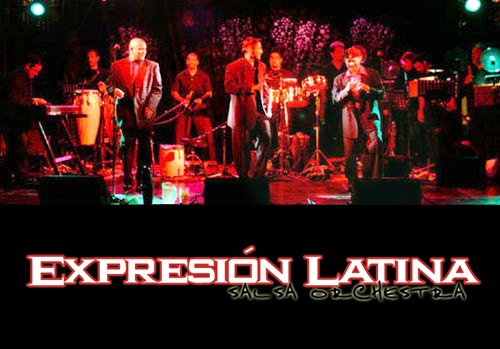 Latin Expression, a.k.a. Expresión Latina, is not new in the salsa circuit -- this awesome orchestra has paid its dues. Created in Seattle in May of 1986 by composer/vocalist Francisco "Papo" Medina Sr., combined with his son, Jr. Medina, Ted Bowden, and Dennis Haldane -- all still active members in the group – along with several other local talented musicians, Papo's dream orchestra was born.

Today this 13-piece ensemble is comprised of 4 vocalists, 4 horns, plus a 5 piece rhythm and percussion section, making Latin Expression a powerhouse orchestra of Latin music that has performed from Canada to Los Angeles, packing clubs and filling dance floors as well as delighting festival crowds. Their repertoire includes rhythms from around the Caribbean including, salsa, cumbia, Afro-Cuban, as well as what they call "power-salsa".

In 1997, Papo Medina and the rest of the band released their debut CD titled Realidad on the Tocolo Musica label. The CD which was nominated for a NAMA award, featured eight original compositions including fan favorites Realidad and Alejate.

2005 brought the release of the highly anticipated production entitled 9 Dias de Rumba, which was recorded in Medellan, Colombia. Produced by Papo Medina, music arranged and directed by Orlando Libreros and featuring special guest performances by Diego and Jaima Galla who inject the perfect amount of Colombian flavor into this majestic force of Puerto Rican salsa. This album which includes 11 tunes was designed for both the dancers and salsa lovers alike.

Latin Expression was once described as "The Northwest's best kept salsa secret", a secret no more. With the international release of 9 Dias de Rumba the secret is out.

__________________________________
<![if !vml]><![endif]>
Latin Expression/Expresion Latina - Salsa Orchestra
__________________________________
206-420-6646
2326 28th Ave S.   Seattle, WA 98144
© 1995-2017
All Rights Reserved