Turbo Productions
a division of Turbo Productions, Inc.
206-420-6646
<![if !vml]>

<![endif]>
To book The Singing Nuns for a live engagement, call us or simply fill out an Entertainment Request Form and a Turbo Productions agent will contact you within 24 hours.
This quick questionnaire will ask you the right questions so we can better serve your specific needs as quickly as possible.

Absolutely No Obligations!!!!
____________________________________
<![if !vml]>

<![endif]>
<![if !vml]><![endif]>
<![if !vml]>The Singing Nuns - Lord of All Gentleness<![endif]>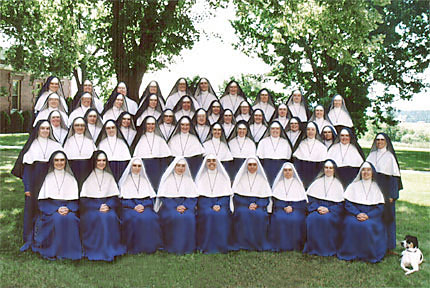 The Singing Nuns are traditional Catholic Sisters, members of the Congregation of Mary Immaculate Queen. In other words, they wear their full-length blue habits all the time — not just on special occasions or when they are singing. Their motherhouse, St. Michael's Convent, is located at Mount St. Michael, just north of Spokane, Washington.
These zealous women have come from all parts of the country and from all walks of life to dedicate their time and talents to the service of God and neighbor. The Sisters engage in a very active apostolate of spreading the Faith, through singing as well as through publications and other media. They staff a K-12 Catholic academy, a print shop, a religious book store and mail order center, and several parishes throughout the country.
Let The Singing Nuns tell you about their way of life through their singing.
"So let your light shine before men, in order that they may see your good works and give glory to your Father in Heaven." — Matt. 5:16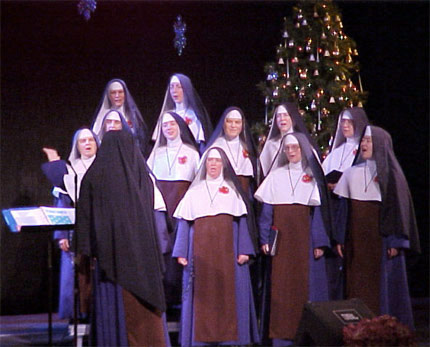 __________________________________
<![if !vml]><![endif]>
<![if !vml]><![endif]>
Consecration 
I Know Where I'm Going 
Click here to purchase The Singing Nuns CDs
__________________________________
206-420-6646
2326 28th Ave S.   Seattle, WA 98144
© 1995-2017
All Rights Reserved